Iskon oil receives 'Best of Serbia' award second year in a row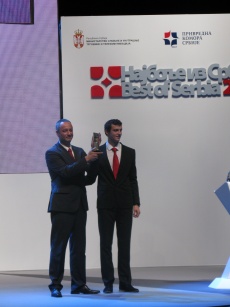 Last night on the prestigious award ceremony of 'Best of Serbia' competition, traditionally organized by the Ministry of  Foreign and Internal Commerce and Telecommunication, Serbian Chamber of Commerce and the economic daily Privredni Pregled, Iskon oil won second year in a row gold statuette for the best brand in food category.
'Let's Choose the Best of Serbia' contest has been organised for ten years in a row, with a view to promoting the values of the local economy and identifying most recognisable local brands. This year, besides Iskon, winners in other categories are: Metalac and Bambi as best corporate and consumer brands with decade long tradition, Fiat as the best exporter, Nectar as the best corporate brand in category of beverages, Coca-Cola Hellenic as the best foreign brand in Serbia, Telekom Srbija in the category of best public/state company and many others.
'Iskon oil is continuously winning awards, proving its quality on the market together with domestic and foreign sales results in 2013. But to receive the award that you are the best in your country is very special for us and represents additional confirmation of every investment in production we have made, at the same time committing us to achieve even better results in the next period' - said Srđan Popov, General Manager of Victoriaoil factory, member company of Victoria Group.
The goal of 'Best of Serbia' competition is to stimulate high quality products from Serbia and to promote best consumer and corporate brands from our country, in that way strengthening their market position and consumers' and partners' trust both in Serbia and abroad. This year over 175 consumer and corporate brands were nominated in the competition with the record number of voters.