Iskon oil - premium quality in new packaging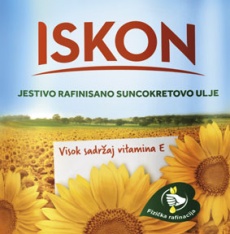 Victoriaoil, member of the Victoria Group and one of the largest exporters of food products in Serbia, promoted today a new packaging of their leading brand - Iskon oil. This product, sold in 11 countries throughout the European Union and CEFTA, has recorded a continuous growth in domestic and international markets since its launch in 2009.
"Constant investment and innovation in manufacturing and business processes enable us to emphasise the quality of our products in the market, and that is exactly what we want to be recognised for. Oil from Victoriaoil is used by every third household in Serbia, and with a refreshed visual identity of Iskon and intensive communication with customers we will try to win an even greater market share. The golden colour of the cap is an established premium standard which Iskon oil carries, while the stylish, lively, and natural appearance of the label symbolises the purity and richness of Iskon", said John Chetcuti, General Manager of Victoriaoil and COO of Victoria Group.
After four years of existence, Iskon has already won a large number of national and international awards for quality, reaching the pinnacle with the award Best from Serbia for the food industry, given by the Serbian Chamber of Commerce. In addition to awards and international quality standards such as ISO, HACCP, HALAL, KOSHER, IFS, GMP+, this quality is confirmed by the fact that the factory Victoriaoil was selected as a key supplier for some of the largest retail chains in the region and the EU.