Victoriaoil "went out and filled a jar" and proved once again its social responsibility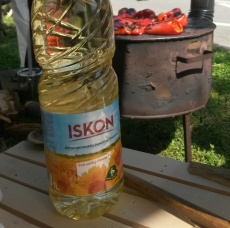 Victoriaoil, a member of Victoria Group, supported the campaign "Izađi mi na teglu" (English: Go Out and Fill a Jar), organised by the BašTaMašta Association and donated 1,200 litres of Iskon oil. "Izađi mi na teglu" is a one-day event involving a competition in the preparation of ajvar (red bell pepper relish) and is held in 30 cities throughout Serbia.
The campaign started today, 28 August, in Kanjiža, and will end with the final event in Belgrade, in Kalemegdan Fortress, on 11 October when it will be known who are the best ajvar-makers in the country.
By the end of the event, it is anticipated that 12,000 jars of ajvar will have been made, and every single jar is intended to go to homes for children without parental care and other children's institutions in the territories of the municipalities in which the project takes place.