Victoriaoil Supported the First Counseling Conference of the Confectionery Industry in the Region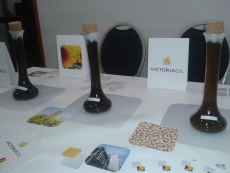 The First Counseling Conference of the confectionery industry in the region was held on April 20 and it was organized by "IHIS Nutrition", a science institution oriented towards food technology, supported by the Group of confectionery products manufacturers, as a part of the Economic Chamber of Serbia, and Victoriaoil as one of the sponsors. This meeting gathered around 150 participants from Serbia and this region, who had the opportunity to hear the most up-to-date information on scientific achievements and new technologies in the confectionery industry.
A large number of lectures were held by representatives from scientific institutions and confectionery products manufacturers. Significant interest was aroused by the presentation of the scientific-exploration work of Professor Biljana Pajin from the Faculty of Technology in Novi Sad, on the topic of replacing soya lecithin with sunflower or rapeseed lecithin. Testing was performed on lecithin manufactured in the Victoriaoil factory and these products and their possible application were separately presented at the Counseling conference.