Victoriaoil gathers the largest animal feed manufacturers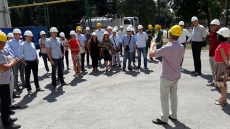 On August 17, in Šid, Victoriaoil, a Victoria Group member company, gathered the representatives of 20 of the largest animal feed factories in Serbia to promote the meal production program from its assortment. The main focus was on the high-protein sunflower meal and its application in feed formulations for different categories of farm animals.
The gathering was opened by Srđan Popov, Victoriaoil's General Manager, who gave a presentation on the factory itself – its processing capacities, technology, and production portfolio.
Vladimir Šarac, Quality Control Department Director, spoke of the meal program. He presented the 33%- and 40%-protein sunflower meal, emphasizing that this particular oilseed meal is one of the most important sources of biologically valuable proteins, especially bearing in mind the sunflower growing area and yield in Serbia.
The importance of including high-protein sunflower meal in animal feed mixtures was also emphasized by Dr. Olivera Đuragić, the director of FINS, Institute of Food Technology in Novi Sad.
Apart from sunflower meal, Victoriaoil's offer features soybean and rapeseed meal as well. The gathering ended with a visit to the production plants, which gave the representatives of the animal feed factories a chance to discover all aspects of the meal production process in the Šid oil production plant. The gathering also made for an excellent occasion to point out the importance of cooperation between the animal feed ingredient manufacturers and animal feed factories.