Victoriaoil on the Chinese market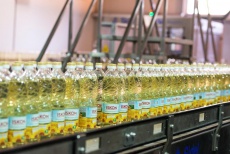 After last year's 41% increase in revenue from sales and an increase of EUR 10.8 million in exports, Victoriaoil continues conquering new markets and expanding in countries where it has been operating for years. This year, the oil refinery which is a part of the Victoria Group made a breakthrough into the Chinese market, where the first placements of edible sunflower oil and raw soybean oil were made.
"We exported the first shipment of refined sunflower oil in bottles of one and five liters, which reached their retail stores through our Chinese partner. We also exported the first shipment of 500 tons of raw soybean oil, successfully overcoming the challenges arising from transporting this kind of product to such a distant market. We always emphasize that the operational efficiency of our production and its technology are at the highest level, and this is perhaps the best example to illustrate this. We have long been recognized in the region for our excellent quality cost ratio, made possible by significant initial investments in the Victoriaoil factory. Investments in the refinery, the plant for filling and packaging of oil, but also in energy efficiency and storage capacities realized in the previous period have resulted in excellent sales, both on domestic and foreign markets," said Nikola Vujačić, Executive Director and Chief Operations Officer in Victoria Group.
Besides the traditionally successful placement of refined sunflower and rapeseed oil, Victoriaoil has recently been recording a significant increase in the demand for soybean, and especially sunflower lecithin for the confectionery industry needs.
"Lecithin produced in our oil refinery can be found in sweets produced by Medela, Pionir, Soko Štark and Swisslion, as well as major European confectioners. The quality of the products, whether it is refined or raw oil, lecithin or meal, is what we always insist on. In addition to all of the quality standards implemented, large retail chains and international companies often send their independent inspections from abroad to check the compliance of our production with the criteria of the required standards," said Vujačić. 
Victoriaoil's main export is to countries in the region, Austria, Slovakia, Slovenia, Greece, and Albania. More than half of its total production is sold on foreign markets. Annually it processes 230,000 tons of sunflower and 85,000 tons of soybean and rapeseed, which are mostly purchased from domestic farmers, turning them into finished and semi-finished products. As a result, this company is one of the largest net exporters in Serbia.