Victoriaoil and Iskon support the charity event "Show me the Jar" for the third year in a row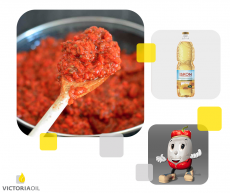 The third annual "Izađi mi na teglu" (eng. Show me the jar) event will be supported by Victoriaoil, a Victoria Group member company, which produces ISKON edible sunflower oil. By promoting ajvar (red bell pepper relish) as a traditional domestic cuisine delicacy, this socially responsible event organized by the BaštaMašta Association donates food to institutions in need throughout Serbia.
This year's ajvar-making contest will be held in more than 20 cities, with over 1,000 participants. The final stage of the contest will take place in mid-October, when the winning teams from all cities will compete and the three best recipes will be chosen. It is expected that more than 4,000 jars of ajvar intended for the contestants to keep will be made during the event, while the same amount of certified ajvar will be donated to institutions in the territories of the municipalities in which the project takes place.
This year as well, Victoriaoil sponsored this charity contest and supported it by donating 500 liters of ISKON oil which will be used for making ajvar.