Use of Biomass and Agro-pellets Presented at the RENEXPO Fair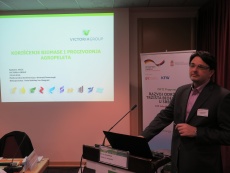 The Second international fair and the conference on renewable energy sources, RENEXPO Western Balkans, was held in Belgrade on April 22 and 23. Attention was primarily paid to the plants for biomass and biogas as the fuel for the future, energy efficiency projects which enable more rational consumption of fuels, as well as to the possibilities for investments in this area through connections made between investors, industry leaders, ministry representatives and members of expert associations, and engineering offices.
At the workshop organized at this event by the German Organization for Technical Cooperation GIZ, Radomir Jeličić, Technical Manager for Mechanical Designing at Victoriagroup, held a presentation named "Use of biomass and agro-pellets production". On this occasion, the use of biomass was presented in the factories which are part of the Group - Sojaprotein, Victoriaoil, and Veterinary Institute Subotica, as well as the logistics network of the member company of Victoria Logistic for the efficient collection and management of biomass in Vojvodina. Another topic was the use and production of agro-pellets in the plants at Victoria Starch in Zrenjanin. There were more than 60 participants at the presentation, among whom were the Provincial Secretary for Energy and Mineral Resources, Nenad Stanković, representatives of the Ministry of Agriculture and Environmental Protection, as well as representatives from the public and private sectors.