Iskon oil in the best ajvar in Serbia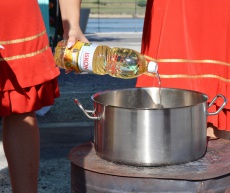 The fourth charity cooking event "Izađi mi na teglu" (English: Go Out and Fill a Jar) was held this year. The promotion of ajvar as a Serbian gastronomic brand was followed by it being donated to the institutions from the municipalities hosting this event.
The search for the best ajvar in Serbia lasted for 50 days and more than 450 teams were tested in 30 towns. Iskon oil was used for every pot and jar of ajvar prepared over the course of "Izađi mi na teglu", thanks to a donation by Victoriaoil, a Victoria Group member company, the manufacturer of this high quality sunflower oil.
Over the course of the event, which was visited by more than 150,000 people, a total of 5,000 jars of ajvar were cooked, and the team from the Kanjiža municipality won the grand finale held on October 14. The organizers announced that in 2018 "Izađi mi na teglu" will cross the borders of our country and become a regional event.