ISKON continues to confirm its quality at the Novi Sad Fair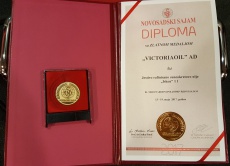 The traditional quality assessment of products categorized into several commodity groups was organized ahead of the 84th International Agricultural Fair which will be held in Novi Sad from May 13 to 19. ISKON edible sunflower oil produced by Victoriaoil, a Victoria Group member company, has been awarded several times already at the Novi Sad Fair for its exceptional quality. This year ISKON was awarded a gold medal which was received by Vladimir Šarac, Quality Control and New Products Development Director at Victoriaoil.
Victoriaoil has one of the most sophisticated factory laboratories for quality control, where all the analyses necessary for production process monitoring and assurance of the required finished product quality are performed. The quality of raw materials and additional materials used for production, as well as input materials used at the edible oil filling and bottling plant, is also controlled.