Fourth "Ruža ZEPS" for Iskon Oil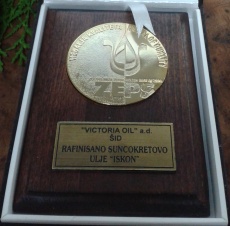 Iskon Oil was awarded the "Ruža Zeps" gold medal for quality for the fourth consecutive year at the 20th General BH Fair ZEPS 2013. Eighteen products from Bosnia and Herzegovina, Serbia, and Montenegro were nominated in the food products category, and the evaluation of quality was made based on analyses performed by the Institute for Food Technologies at the Faculty of Agriculture and Food Sciences in Sarajevo, plus grading by the fair jury and a group of customers that participated in tasting.
The "Ruža Zeps" is the third award for quality Iskon has won this year, in addition to the "Best from Serbia" recognition and the gold medal won at the International Agricultural Fair in Novi Sad.